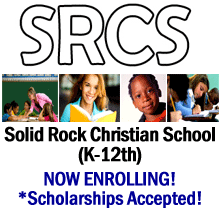 Learn More About Us


Meet Our Pastors


Location and Service Times


Statement of Faith


Solid Rock Christian School


Online Giving


Contact Us

Media (Audio/Video)
You can tune in to our most recent audio and video sermons! We also have free .mp3 downloadds available for your hand held device!
Minsitries and Activities

All ministry at Solid Rock Worship Center flows from John 13:1-16. In these great scriptures, Jesus teaches that ministry is serving - not being served. Jesus "laid aside His outer garments" and exchanged them for a towel. With the towel, He washed and wiped the disciples' feet.

Following a Christ-like example, we here at Solid Rock look for opportunities to serve others in our community as well as in the church.


World Missions (IFCM)


Solid Rock Christian School (K-12)


Petra Theological Seminary


Media Ministry


Prayer Ministry


Children's Ministry


Women's Ministry

Solid Rock Worship Center, Inc.
21951 US Highway 441 - P.O. Box 236 - Mt. Dora, Florida 32756-0236 | Ph: (352) 735-5777
"...and upon this rock I will build my church; and the gates of hell shall not prevail against it.." Matthew 16:18