Meet Our Pastors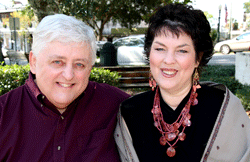 Dr. Larry and Sandy Stutzman
Senior Pastors

Ordained as pastors in 1987, Larry and Sandy Stutzman have been working in the Ministry for over 20 years. With the Bible as the cornerstone of their church and ministry, they have travelled extensively on the mission field, assisting pastors and churches and reaching out to those in need with the love and Gospel of Jesus Christ.


A Welcome Message for You!
"...As we reach out to the families in our community, we hope that you will take advantage of everything happening at Solid Rock. Sandy and I want to take this opportunity to let you know that you are a vital part of the Solid Rock family. We appreciate you and thank God for letting us be a part of your life.
Remember, the "church-life" of every Christian is very important. It is where we get fed, where we give of ourselves through servanthood and where our gifts are used by God to edify His Body. It is also the place of blessing, growth and increase and we believe God has ordained Solid Rock to be a LIFE FORCE in our community and the world beyond. (Through evangelism and discipleship.)
I pray that God's blessing will rest on you and your family until we meet again this Sunday!
God BLESS, BLESS, BLESS you!"